Please note: Sometimes our newsletters contain limited offers that may not be available at this time!
This newsletter was sent out on 24 February 2009.
Hi [fname],
Forgot your login?
IN THIS ISSUE:
MANSION POKER - LAST 125 BONUSES RELEASED TONIGHT


Please be advised that our final batch of no deposit bonuses for Mansion Poker (125 bonuses) will all be released tonight at 8pm GMT (21:00 CET).
After that, the offer will be closed while Mansion Poker analyze the activity and value of the BankrollMob players. If everything turns out good, the offer will hopefully be re-opened in the near future.
We strongly suggest that you go ahead and create an account with Mansion Poker as soon as possible -
follow these instructions, click here
(requires Mob login), so that you are ready at 8pm to just complete the final step of the bonus request process by simply entering your Mansion Poker username. In our experience, the 125 bonuses would be gone in maybe half an hour.
Click here for more information & sign up now!

BankrollMob invites all our Titan Poker players who signed up at Titan Poker through BankrollMob, to take part of the "March Invitational" $2000 guranteed tournament, with a buy-in of just $2+$0.20. The tournament is restricted to all new depositing players after February 1st and it is scheduled for March 29th at 8 pm "server time".

If you have not yet signed up, be sure to check out our Titan Poker offers:

Start your next month with an introductory freeroll and deposit bonus at RummyRoyal – the world's biggest online rummy game room. The $100 freeroll will take place on Sunday, March 1st, 19:00 GMT (in the lobby it will say 14:00 EST) and will be open only for BRM members. This will be followed with many more events to come throughout this year.
Other than that – RummyRoyal invites you to a friendly first deposit bonus – deposit $/€/£10 only – and get a 150% bonus! Sign up and enter this code: RRB651B30D - this is only for first depositors and valid until Feb 28th, so hurry up.

While you're already playing at RummyRoyal's game room, you can try your luck at the "Lucky Dollar" table, starting 1 hour after our freeroll at 20:00 GMT (15:00 EST). This is a $500 guarantee tournament with only $1 buy-in.

Bankrollmob is soon having its private guaranteed prize tournament. So the more of you signing up and opening real money accounts – the lower the buy-in and the bigger the prize money!


Remember that we're still offering you the $150 free bonus for CD Poker through PokerRoomSchool. This is a very easy bonus and is available to most countries.

Simply click here to signup now, complete a small poker quiz (if you need help, check our forum). After completing the quiz you will receive $50 on your account and another $100 released during play, without making a single deposit.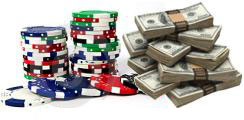 Here's a list of our upcoming freerolls as well as information about the kind of bonus we can offer you at each site. If you don't already have an account, be sure to sign up through the links below so you can take part in both the freeroll and the bonus (certain countries might not eligible for the bonus).
You are recieving this e-mail at [email] as part of your membership with one of our sites (BankrollMob)
.
To make sure that you receive all our e-mails, please add us to your list of trusted senders / address book.