Please note: Sometimes our newsletters contain limited offers that may not be available at this time!
This newsletter was sent out on 05 March 2009.
Hi [fname],
Forgot your login?
IN THIS ISSUE:
BANKROLLMOB DAILY FREEROLLS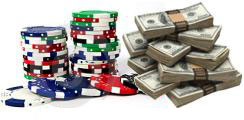 Here's a list of our upcoming freerolls as well as information about the kind of bonus we can offer you at each site. If you don't already have an account, be sure to sign up through the links below so you can take part in both the freeroll and the bonus (certain countries might not eligible for the bonus).
| | | | |
| --- | --- | --- | --- |
| Day & Date | Prize & Site | No Deposit Bonus | Deposit Bonus |
| Thursday, Mar. 5th | | | |
| Saturday, Mar. 7th | | | |
| Sunday, Mar. 8th | | | |
| Monday, Mar. 9th | | | |
| Tuesday, Mar. 10th | | | |
| Wednesday, Mar. 11th | | | |
| Thursday, Mar. 12th | | | |
| Friday, Mar. 13th | | | |
| Saturday, Mar. 14th | | | |

Getting ready to bet on the upcoming Champions League / UEFA cup matches? Make sure you sign up to BetFair and take advantage of the £25 free bet offer. Once you won, or lost, your first bet of up to £25 you will receive a free bet up to £25 within 24 hours. It's that simple.

Our poll indicate that 43% of the BankrollMob members think Manchester United will win Champions Leage 2009. In 2nd place we find Barcelona with just 18%. What do you think? Vote & discuss now!



World's biggest online rummy game room is on a roll, hosting its second freeroll in two weeks for BRM members. After having a first successful freeroll, a $5 no deposit bonus and a 150% deposit bonus (both still running, 150% bonus expires March 6th, so hurry up!), RummyRoyal is inviting BRM members to play in another $100 freeroll and enjoy a nice break from poker, playing some rummy and develop card game skills. The game is yet again

Kalooki 51, the most popular among most rummy players (see flash demo on their website).

Here's what do to for all you who still haven't signed up there:

When done, choose "Real Mode" (no deposit needed here, but just fill in some details)
In the lobby, choose "$Real Mode" tab and "Multi Tourney" tab
Search for tourney name "BRM private", click 'join' and register!
Practice some Kalooki 51 games and come back at March 13th, 19:00 GMT!

*Players that will not fill in their details will not be able to register. If you have a "not eligible to participate in tournament" window – just go to "Cashier", fill in the details and then try to register again. Once again: No deposited or password needed, but make sure to click through our links only!


We still have the superhot bonus for CD Poker available. However we are not sure how long this offer is going to hold, so if you want it, now is the time.

All you have to do is click the link below, register an account with CDPoker (pokerroomschool) and take a small quiz. $50 will then be deposited into your account, and you will be able to get an additional $100 released during play for a total of $150 without making a single deposit! No tricks, no catches - real money straight to your account.

CLICK HERE TO REGISTER!
Whether playing poker for pleasure or competing with friends for a shot at a big prize pot – it's always fun to be number one. At Cool Hand Online Poker your daily gaming efforts won't go to waste. Even if you don't win every game, you'll still get rewarded as you make your way to the top of the Leader Boards. That's of course not to say that you shouldn't aim for pole position.

Cool Hand Poker's Leader Board Challenge promises to be a fun-filled way to stack your game against the rest of the players in the poker room, and get rewarded along the way. Daily, weekly and monthly prizes are up for grabs!

How does it work? It's quite simple. You earn points every time you play – the more you earn, the higher you rank. The Weekly and Monthly Leader Board Challenge offers a $5,000 prize pool. Players who make it to the top 100 every month will receive cash prizes while 16 mp3 players are up for grabs every week. Furthermore the player who proves to be the biggest position jumper of the day will receive a $25 cash prize daily.

Besides a long list of prizes, you can use the Cool Hand Leader Board Challenge to measure you skills against others. The more you improve, the better your odds of receiving rewards.

BankrollMob offers new Cool Hand Poker users a 100% up to $350 welcome bonus as well as weekly $100 freerolls (soon to be announced for March, watch our Freerolls-section).
Here's what new in the world of poker...
You are recieving this e-mail at [email] as part of your membership with one of our sites (BankrollMob)
.
To make sure that you receive all our e-mails, please add us to your list of trusted senders / address book.